HOW — Monday Motivational Meditation #346 — 2018-03-26
From Nursing Heart Inc on March 26, 2018; #346
Monday Motivational Meditation
 I've learned that people will forget what you said,
people will forget what you did,
but people will never forget how you made them feel.
Maya Angelou, 1928-2014
American poet, singer, memoirist, and civil rights activist. She published seven autobiographies, three books of essays, several books of poetry, and is credited with a list of plays, movies, and television shows spanning over 50 years.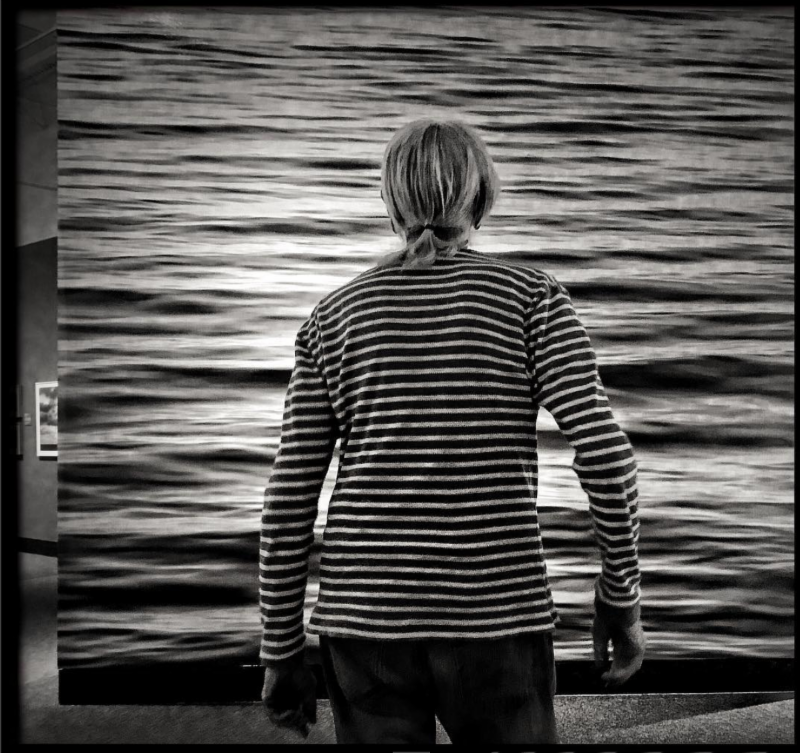 HOW?
Asking someone, "How can I help?" allows them to remain in the picture. Sometimes, what my patient wants is just to be heard. When I ask, "How are you feeling today?", I want my patient to know that I do not have some preconceived notion about their reply. I am interested and willing to hear what they have to say. They may tell me how they are doing non-verbally and to that, I also want to listen. The question is, do I want to keep them in the mix of my assessment.
Keeping my patient in the mix keeps me from thinking I have to be the savior. I am the helper and asking how I can help is assisting my patient to take on his or her role in the healing process. My empathetic responses mean I have listened and am willing to identify with their thoughts and feelings about their situation. I want to allow my patient to embrace the problem and be there to assist with encouragement.
How I help my colleagues is also relevant. In a healthcare environment, I know doing things with others is better. To what extent or in what manner or means we find our way to better systems and methods of bringing healing will be something we will do together. Asking, "How can we get this done?" is a way of acknowledging that I am not the only player on the team.
Divine Companion, how I find my way to peace and hope will sometimes only be with your grace.   Help me to remain open to the surprises that may come from believing that there are energies and forces available to assist of which I have no idea origin.  Every time I ask someone, "How may I help?" give me the calm to listen with a caring heart.   AMEN.
ACTION: How conscious are you of your "How" questions? The next time you ask someone how are they feeling, monitor how well you listen. Practice this ability this week.
About the photographer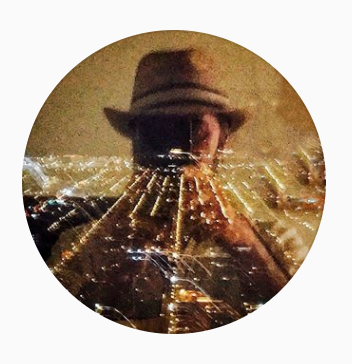 ERIC MENCHER

Katie Wesson of iPhone Photography School has done an interview with our featured photographer. "Eric Mencher is a professional photographer who shoots incredible documentary photos with his iPhone. From candid street photography to close-up portraits, he captures stunning iPhone photos of people that tell interesting and intriguing stories from around the world." Eric reports in the interview, "I'm a freelance documentary photographer based in Philadelphia in the United States, but I also live part of the year in Guatemala and Mexico. I was a staff photojournalist at the Philadelphia Inquirer newspaper for over twenty years, where I covered everything from World Series to wars. I've always photographed a lot of projects on the arts. I left the newspaper about seven years ago to go freelance and work on my own photo projects." To beginning photographers Eric advises, "There are so many ways to tell stories through pictures. Find your own way and don't feel locked into a style. Look at what others have done (and still do) and build on those traditions." See the full interview.
Thank you to Eric for this opportunity to share his photos with Nursing Heart readers once again. We feel honored to exhibit his craft. See more of his work at Instagram. Click Here.  Today's photo is called, "Confronting the Sea" taken at the Harn Museum of Art in Gainesville, Florida.
The photos will help us illustrate these meditations called, "Questions." The themes during these six weeks are based on a book by work James E Ryan, the Dean of the Harvard School of Education entitled: Wait, What? and Life's Other Essential Questions. It is a short book based on a graduation speech he gave that went viral.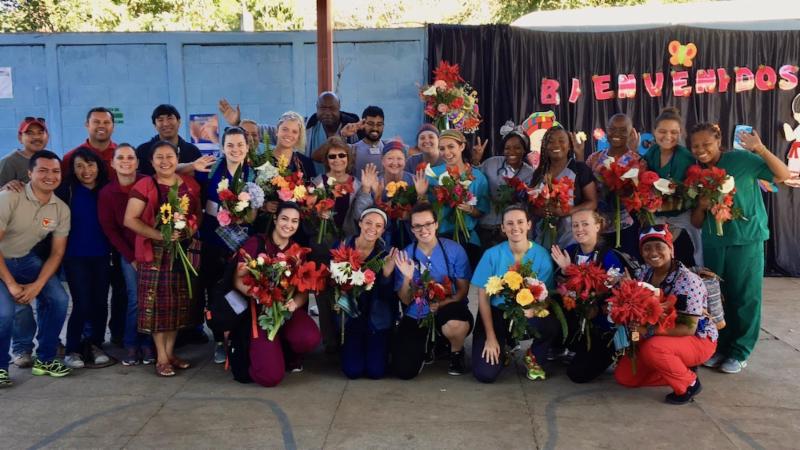 The welcome with flowers to the BSN group from FAU earlier this month.
These days we are savoring the four weeks we just completed in Guatemala with three nurse practitioner groups and the FAU BSN group. One of the special experiences of this work is to experience the welcome of Guatemalan communities. One of the most memorable was the welcome with flowers for each participant from the school children at Platanar. This is the dry season here and I'm sure it's not the time of year for lots of flowers in a family home. But, that did not stop this community from sharing them with the BSN students. It was, well, sort of overwhelming and inspiring to the BSNs and our team. If you missed any of the one minute videos, here they are for you again.
Week 1: FAU NPs group one
VIDEO

Week 2: FAU NPs group two
VIDEO

Week 3: FAU BSNs
VIDEO

Week 4: U of MN NPs
VIDEO
We will move into the very special week of Semana Santa this week.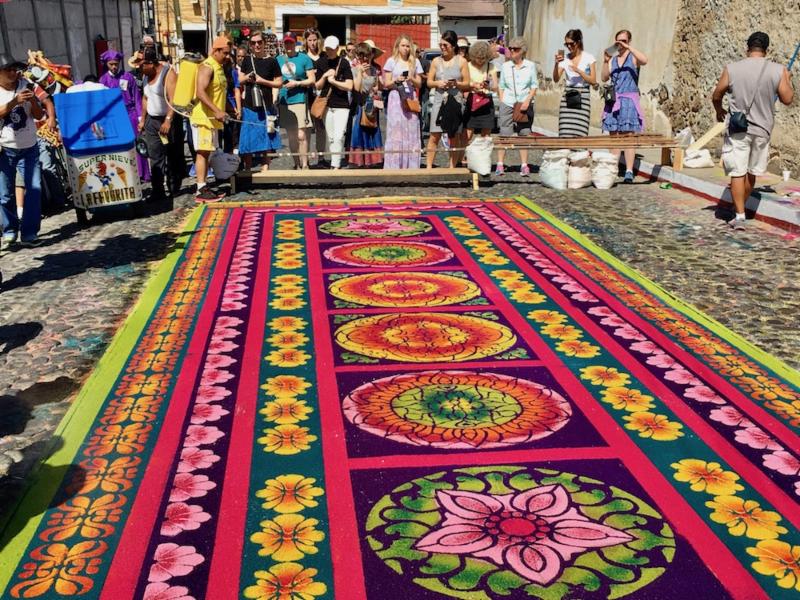 In Guatemala it is a huge holiday week. Thousands of guests visit Antigua. We will have a full burgeoning of alfombras in the the streets and processions each day. UMN NPs saw the alfombra in this photo.
We turn our sights now to completing the details for a new program we are piloting this spring. We will offer our first Continuing Education Units (CEU) course in Guatemala through M and M Medical of Boca Raton, Florida. We still have two spots to fill. Do you want to join us to receive 40 CEU credits? Please write to us at nursingheart.org@gmail.com.
Peace,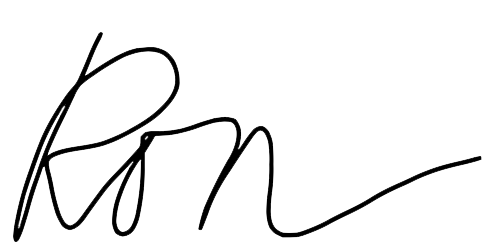 Quote of the Week
"It is important to consider how a treatment plan will affect a patient.
If a recommendation is not in line with the patient's values, or it is too expensive or difficult for the patient, it will not be effective."
Meghan Teresa Battista, RN
Adult Gerontology Nurse Practitioner Candidate
University of Minnesota
Minneapolis, MN